From the diary and papers of Captain William Allcock RFC
June - September 1916
No 4 Reserve Squadron, Northolt, Middlesex
Captain Allcock was appointed to No 4 RS as an instructor on June 16th 1916. The Squadron was equipped with Maurice Farmans. In his short time there he taught 9 students, flying a total of 15 hrs.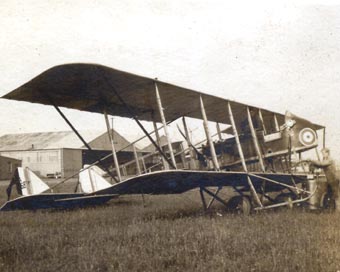 Maurice Farman S11 (at 3 RAS) Picture © airwar1.org.uk
No 2 Reserve Squadron, Brooklands, Surrey
He was then appointed to No 2 RS as an instructor on July 4th 1916. During his time with No 2 RS he taught 29 students, giving flying instruction for 60 1/2 hrs and testing Avros for 16 hrs. He left Brooklands on September 25th for No 46 Sqn at Wyton.