No 16 Squadron RFC Feb 1916 to May 1916
From the diary of Captain William Allcock RFC
Editor's note: Lt. Allcock's second operational appointment was to No 16 Squadron based at La Gorgue, France as a Flight Commander. He was promoted to Temporary Captain with effect from 21 February 1916. The Squadron was equipped with BE2c machines plus a Bristol Scout (as an escort) and operated in a reconnaissance and artillery support role but also conducting occasional bombing missions. He served with the Squadron from February 1916 through to May 1916. No 16 Sqn CO was Maj. D W Powell.
Feb 27th
Started for bomb dropping on Don. Very misty and clouds at 3000 ft. A great number of pilots lost themselves and landed up North at Dunkirk. One pilot called Lt. Thayre landed at Herne Bay, Kent (thought it was Holland), Rendezvous was at No 2 at 11.30 am. Finding no one at No 2, I returned to No 16 and landed at 11.45 am. 1 1/2 hrs
Feb 28th
Reconnaissance of the 3rd Corps Front with Lt. Summons. Nothing of great importance seen. 1 1/4 hrs
Feb 29th
Photography with Lt. Nesbitt. 18 taken which were of the Hun front line trenches (exceptionally good). Archie very good. The fuse of one shell hit my gun and carried it overboard (from the pilot's rear gun mounting).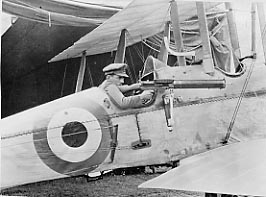 BE2c Lewis gun mounting. Picture © airwar1.org.uk
March 1st
Photography with Lt. Summons (15 taken). Clouds plentiful. One Hun machine seen very low down, 1500 ft. 1 1/4 hrs
March 2nd.
Landing practice on the Bristol Scout. 1/2 hr
March 2nd
Flew over to No 2 Squadron with Corp. Wain to see the BS field gun mounting. BS out on patrol. 1 hr [BS - Bristol Scout]
March 3rd
Flew over to No 2 Squadron with Corp Wain, got rain bound. Stayed to tea, came back by tender. 1/4 hr
March 5th
Flew over to No 2 Squadron to fetch my machine with Lt. Logan (pilot), Arrived safely back at No 16. 1/2 hr
March 5th
Counter Battery work with 109th. and. 110th Heavy's. Corp arranged an artillery strafe on Hun trenches. We went up (2 Lt. Summons) to spot flashes. 2 1/2 hrs
Gun flash patrol with Sgt Prance. 1 hr
March 8th
Artillery Registration with 109th and 110th Heavy Battery. OK from each gun then GO. Observer Lt. Summons. Englos Fort observed and also 2 flashes reported. 2 1/4 hrs
Artillery Registration with 23rd Siege. 6" gun on Convent. Unsuccessful owing to ground station wireless. Observer Lt. Nesbitt. 1 1/4 hrs
Hostile aircraft patrol on Bristol Scout. On landing just ran off Red slack into plough. She turned on to her nose but no damage done. 1 1/4 hrs
March 9th
Escort to bombing raid on Carvin, 31 machines took part. I saw 7 bombs burst with apparent damage. Observer Lt. Summons. 2 hrs
March 11th
Engine test. Satisfactory. 1/4 hr
March 12th
Test Flight. Hun machine brought down with engine failure. He landed at Lavente smashing in landing. The machine was brought into our sheds.
March 12th
Hun patrol on Bristol Scout. I attacked two who were recrossing the lines over Armentieres at 10,000 ft. One was a two sealer Albatross, the other was a single seater Scout Albatross, which was above and behind the first. I attacked the first on the same level from behind putting in one drum. I then turned off to fix another drum. The Scout then attacked me, but I manoeuvred to a position 100 ft behind and below him putting in two drums. The shots were observed at first to go wide but I got them on to his engine, which apparently stopped for he dived perpendicular and then came out into a glide. I followed firing most of the time. We went down to 4000 ft, but Archie became very active and accurate and he must have landed between Englos Port and Lille. I recrossed the lines north of Armentieres in thick mist. 2 hrs
Editor's note: The following is the RFC Communiqué (Comic cuts) account of the aforementioned action.
RFC Communiqué 31
March 12th
Capt. Allcock (Bristol Scout, 16 Sqn) attacked two Albatroses crossing the line South of Armentieres. After firing one drum he was in turn attacked by a single-seater Scout. Having changed his drum Capt. Allcock again attacked one of the Albatroses and apparently hit the engine which stopped, and the machine dived almost perpendicularly. Capt. Allcock followed to within 4,000 ft of the ground firing most of the time. The hostile machine landed somewhere between Fort Englos and Lille. Owing to the accuracy and intensity of the anti aircraft fire at this height we was forced to withdraw.
March 13th
Weather test, took up Nairn Jones who I accidently met on our aerodrome on March 12th. 1/2 hr
March 13th
Close Reconnaissance of 3rd. Corp Front with Lt. Truscott. Observed 2 trains also RS in Lille. Archie particularly good, put about 12 holes in my planes, two bullets passed just underneath my seat without apparent damage. 1 1/2 hrs
March 13th
Artillery Registration with 23rd Siege 6" guns on Beaucamp Convent. I observed burst - B10, A10 very difficult to see. 2 hrs
March 13th
Unrecorded flights - test machines, etc. 5 hrs
March 14th
Photography with Lt. Truscott of the German 2nd Line. 11 good results. 1 hr
March 14th
Machine test. OK. 1/2 hr
March 14th
Hostile aircraft patrol on the Bristol Scout. I rendezvoused at Bethune at 9000 ft at 2 pm. I did not see No 2 so we circled round with 18 & 3 for 10 mins, then I broke off and patrolled the line from Armentieres to Lens, without result. 2 hrs
March 15th
Patrol for activity with Lt. Summons. Slight movement seen in trains etc. 1 1/2 hrs
March 16th
Close reconnaissance of the 3rd Corp front. Slight activity observed. 1 1/2 hrs
March 16th
Hun Patrol on Bristol Scout. No hostile machines seen. 1 1/4 hrs
March 18th
Hun Patrol on Bristol Scout. Two Huns appeared over our aerodrome. I gave chase, caught one up as he recrossed the lines but with insufficient height to attack. Patrolled from Armentieres to Aire. 1 1/4 hrs
March 18th
Photography with 1 AM Sherwood . Six taken. 1 1/4 hrs
March 18th
Test flight on No 1777. 1/2 hr
March 19th
Counter Battery with Lt. Caton. 30th & 34th Siege 2 NP Targets given, one knocked out. 2 1/2 hrs
March 20th
Art Reg. with 34th Siege on 0.25 & 5.4 to 5.5. 4 OKs given. 2 hrs
March 20th
Art Reg with 30th & 34th Siege. Unsuccessful owing to wireless failure. 1 1/2 hrs
10 days leave. Returned March 31st