From the diary of Captain William Allcock RFC
No 46 Squadron RFC
Captain Allcock was appointed to No 46 Sqn at Wyton, Cambridgeshire on Sept 25th 1916. CO Major P Babington. The Squadron had been formed in April 1916 from a nucleus No 2 Reserve Squadron.
The Squadron, equipped with Nieuport two-seaters, proceeded overseas on Oct 20th 1916 and was based at Droglandt, France (West of Poperinge) on the Belgian border, as Part of 2nd Wing II Brigade. The Sqns role was reconnaissance and artillery support. The diary entry is brief in recording the day he was shot down.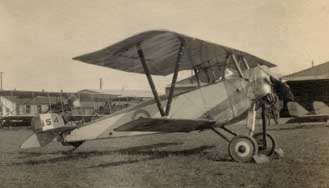 Nieuport 20 Two-seater (this a/c A154 served with No 1 Sqn then 46 Sqn from Jan 1917 before becoming a HE training machine).
Picture © airwar1.org.uk
Nov 13th
Shot down by Hun machine and crashed over aerodrome. Taken to No 2 CCS Poperinge.
Nov 20th
Returned to England
Total flying time on Sqn, 45 hrs.
Hospitalised in Park Lane, London, until Dec 20th, then sent on one month's sick leave.
After his recuperation Capt. Allcock was appointed to the Central Flying School Upavon to C Squadron instructing pilots on Martinsyde Scouts. He joined them on 27 January 1917.